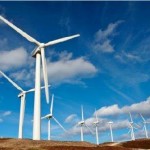 In a kingdom frequently divided by disagreement over matters political and beyond, it is heartening to see wind energy getting a resounding "yes" vote. The results of a survey published last week in Belgium show that 86% of Walloons – the French-speakers living in the south of the country – are pro wind energy.
What is most revealing in the results is the confirmation, once again, of the fact that when people live in the vicinity of a wind farm, they become much more actively pro-wind energy. The survey shows that a huge 91% of people with a wind farm in their area are favourable towards wind energy, while for those who do not live near a wind farm the figure is 62%.
And while the 'NIMBY' phenomenon is often considered to be one of the biggest obstacles to wind energy development, only 8% of people living near wind turbines said they "feared" the effects beforehand. Just a tiny minority of NIMBYs, then, and the majority of those were proven wrong: for three-quarters of this 8%, the fears proved to be unjustified once the turbines went up.
As national decision-makers – from Belgium to Bulgaria – go about implementing their renewable energy plans in order to meet their binding 2020 targets, they should be encouraged by the fact that their electorates, time and again, have voiced their support for wind energy.
The survey was commissioned from Ipsos by Belgian renewable agency association Edora and the Walloon government. Full results are available on www.edora.be.