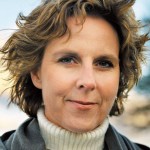 UN talks on a possible international climate-saving deal are due to begin in December, but Connie Hedegaard, European Commissioner for Climate Change, last night warned that countries including China are steaming ahead with a revolution in carbon-cutting technology, with or without a global accord.
"Many parties are moving slowly in negotiations but not in reality," she said at an EWEA debate "Wind of change – how Europe can benefit from reducing emissions by 30%" held in Brussels.
Wind power in China, for example, was virtually non existent 10 years ago, but today China has 50% of the global market, she said at the debate held on the eve of the EU environment council where environment ministers will be deciding the EU's strategy ahead of the UN talks to be held in Cancun, Mexico.
30% by 2020 target needed
With the Chinese threat looming on the horizon, a carbon cutting target of 30% could drive Europe towards a green revolution. Hedegaard said that targets "make things happen faster."
Jo Leinen, MEP and Chair of the Environment Committee, encouraged Europe to take leadership despite the seeming lack of progress on the international scene. "Europe should not link its efforts with the rest of the world." Europe needs a third industrial revolution to a low carbon economy in order to keep European industry from going to expanding markets elsewhere, he said, backing a move to a 30% target.
Moreover, there is the impact of the recession which has kept emissions low over the last few years. This 'emissions holiday', which has allowed companies to accrue emissions allowances, could keep the price of carbon so low up until 2020 that investors will be discouraged from innovative technologies such as wind power.
A 30% target would counter balance this potential effect, Hedegaard said in an opinion echoed by Arthouros Zervos, President of EWEA.
However, Teresa Presas from the Alliance for a Competitive European Industry cautioned that European industry was not ready for a 30% target. "We are just coming out of recession…2020 is less than an investment cycle away," she said adding that a green industrial revolution could only happen on a step-by-step basis.
While the prospects of an international deal emerging from the Cancun meeting look less than bright, perhaps we can pin our hopes for a green revolution on the Chinese threat and the possible risk that Europe could lose its current competitive edge, potential for economic growth and job creation in technologies including wind power.