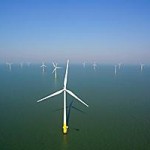 A new milestone in offshore wind energy was reached today as the world's largest offshore wind farm opened off the east coast of the UK. The Thanet wind farm in Kent comprises 100 turbines which will be able to produce 300 MW of electricity, enough to power more than 200,000 homes a year.
Chris Huhne, UK environment secretary, is set to officially open the farm today. "We are an island nation and I firmly believe we should be harnessing our wind, wave and tidal resources to the maximum," Huhne told the BBC.
Once Thanet is online, the amount of electricity generated by wind power in the UK will reach nearly 5 GW – or enough to power 3 million homes.
Maria McCaffery of Renewable UK said that Britain was on the verge of exporting wind powered electricity.
"We are expecting to see the contribution of electricity from wind gradually increase over the next decade to around 30%," she said, according to the Daily Telegraph.
Meanwhile, Reuters noted that with Thanet, Britain now has more offshore wind power capacity than the rest of the world put together. Total capacity in the UK is 1,341 MW compared to the total in the rest of the world of 1,100 MW.
Earlier this month UK wind power hit the headlines with the announcement from the National Grid that production of electricity from wind reached a record high. For 24 hours on 6 September 10% of all electricity delivered to consumers was generated by wind farms.
Watch the Renewable UK video on renewable energy in the UK here.
And the Sky News video here.