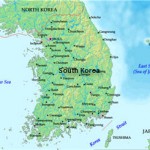 In keeping with its goal of rapidly ramping up the use of wind power and other renewables, South Korea is planning a $7.8-billion offshore wind farm complex that will initially feature 200 5MW wind turbines.
In addition, the highly-industrialised nation of 48.5 million people hopes by 2019 to have as many as 1,000 offshore wind turbines generating up to 5GW of electricity per hour, a Yonhap News Agency report said, adding that would be equivalent to the amount of electricity generated by four nuclear reactors.
The story is an example of forward-thinking Asian nations — China, India and South Korea among them — getting deeply involved in the expanding wind power sector and setting ambitious targets for harnessing green electricity to replace expensive and polluting fossil fuels.
Quoting unnamed government officials, the story confirmed the government will build a "proving area" in the Yellow Sea by 2012 to test approximately 20 wind turbines from various manufacturers.
"The site was picked for its shallow water, which makes the construction much easier and also cuts the cost significantly," an official with Ministry of Knowledge Economy told Yonhap.
Plans for the project are expected to be finalised before the end of October, the story said, adding South Korea will start to build "an experimental complex" for the 200 5MW wind turbines after construction of the 20 test turbines is finished about 30 kilometres off the southwestern coastline in 2013.
The story is further proof that the highly-urbanised nation is serious about increasing its use of wind power, along with solar and nuclear energy.
"The government is devising a long-term plan to lower the country's dependence on fossil fuels to about one-third of all its energy needs by 2030," the story said, quoting an economic ministry who noted fossil fuels currently make up about 50% of all South Korea's energy sources.
The nation eventually wants to increase its use of renewable energy from the current level of only 1% to over 20% by 2020.
The Yonhap story is another reminder that, in order to keep competitive, European policy makers and the wind power sector need to understand just how fast some Asian nations are re-tooling their energy economies.
Staying on top of the latest trends, continuing to conduct needed research and development, and finding ways of streamlining the sometimes cumbersome regulatory process should help Europe maintain its position as a leader in the emissions-free wind power industry.