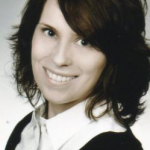 Oliwia Mroz, a wind energy enthusiast from Poland, has participated in EWEA's campaign to get every turbine in Europe adopted. We caught up with her…
EWEA:   Would you like to see more wind energy in your region?
Oliwia: Of course! My area of Poland (North West) has excellent wind conditions, and it is mostly agricultural therefore it meets all conditions for wind farms. However, the main obstacles are complicated investment procedures and the lack of great financial instruments to support the development of wind energy.