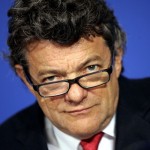 Wind power companies and French citizens are waiting for an announcement later this month that the nation is finally going to capitalize on its extensive coastline and enter — in a big way — the growing offshore wind sector.
News reports and various websites are publishing stories saying that Environment and Energy Minister Jean-Louis Borloo is expected to announce in September initial tenders for offshore wind farms that will include up to 600 wind turbines.
Agence France Presse says the tenders will relate to 10 billion euros to build 3,000 MW of offshore capacity at five to ten sites in Normandy, Brittany and the regions of Pays de la Loire and Languedoc by 2015.
In addition, the French government wants to produce up to 6,000 MW of offshore wind by 2020. Currently, there are no offshore wind farms in France.
According to one website, 3,000 MW of capacity could power both Lyon and Marseille.
France, which gets most of its energy through its extensive nuclear power facilities, has recently begun supporting wind power and other renewables.
France enjoys Europe's second largest wind potential, and the wind resource is well distributed across the country. With nearly 4,500 MW of wind power installed at the end of 2009, France is the fourth largest market in Europe after Germany, Spain and Italy. The French wind energy market grew by 1,088 MW in 2009 (up from 950 MW in 2008), representing 41% of all new generation capacity installed in France.
EWEA statistics also show that wind turbines in France generated 7.8 TWh of electricity last year, a 40% increase from 2008, but still only 1.6% of total power consumption.
Do you want to discuss why France is about to enter the world of offshore wind power? Please make your comments below.