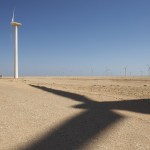 A Palestinian company and another from Israel have announced a unique joint wind power development project that shows working together can bring real benefits to the troubled Middle East.
Despite the deadly flotilla incident near Gaza, Brothers Group Engineering Company from Bethlehem and Israel Wind Power near Tel Aviv hope to install wind turbines for factories, offices and private homes in the West Bank.
According to a recent press release, the venture will include marketing, manufacturing and installation of wind turbines generating from 2 kW to 50 kW of electrical power.
"The Israel Wind Power company will provide its Palestinian counterparts with the technology and professional training to manufacture large capacity turbines, use of resistance accumulators for many years as well as advanced techniques which implement the most advanced standards," the press release said.
"Business collaboration in the area of wind energy is something which will be for the benefit of everyone, it will serve as a bridge of peace for the Israeli-Palestinian conflict," said Dr. Mohammed Salem, CEO of the participating Palestinian company.
Yoram Suissa, the business development manager of Israel Wind Power, reportedly said the joint venture will allow the Brothers Group to receive an open channel to market its products internationally as well as the ability to receive raw materials and significantly upgrade its development. "We will be for our Palestinian friends and colleagues a pipeline for their products to be marketed both in Israel and abroad. We shall partially finance their initial activities and act to raise money for joint projects from various sources."
Specialising in renewable energy systems, the Brothers Group has developed and installed five wind turbine systems to generate 2 kW of clean off-grid electricity for private homes, collected by batteries. Israel Wind Power specialises in the development, design and installation of wind turbines producing clean electricity for both the private and business sector. 
 
"We see this joint business venture to be a business enterprise which connects these two communities in a blessed way, setting aside the Israeli-Palestinian conflict," Salem was quoted as saying. "We believe that this is an example of the ability of ordinary people to bridge gaps between our communities, especially during these stormy days."