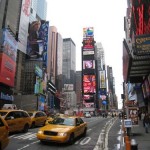 Offshore wind energy could soon be helping to power the Big Apple following a decision by the New York Power Authority (NYPA) to apply for a 25-year lease from the US government to develop a wind farm in the Atlantic Ocean east of Long Island.
The NYPA said last week that it and partners Consolidated Edison Company, the Long Island Power Authority and the City of New York are evaluating the development of between 350 megawatts and 700 MW of offshore wind by 2016.
"By taking this step, New York moves closer to the clean energy economy which combines the benefits of emission-free generation for a better environment with the economic development opportunities of the jobs and industries that will aim to make New York a leader in the growth of offshore wind," NYPA Chief Executive Officer Richard Kessel said in a press release.
Equally upbeat, New York City Mayor Michael Bloomberg said renewable sources of electricity must be used to improve air quality, increase energy reliability and reduce greenhouse gas emissions.
"Beginning the process of leasing the land beneath the ocean will get us closer to developing power from [the] Long Island-New York City offshore wind farm, which when built, will reduce our dependence on fossil fuels and promote economic development," Bloomberg was quoted as saying.
The NYPA — which is the nation's largest state-owned electric utility — says the wind project site includes an area of approximately 64,500 acres of underwater land and is approximately 20 to 24 kilometres offshore of Long Island in the Atlantic Ocean's Outer Continental Shelf, an area under the jurisdiction of the federal Bureau of Ocean Energy Management, Regulation and Enforcement.
The press release adds the concept for the offshore wind project supports the New York State Master Energy Plan including Governor David Paterson's "45 by 15" program, which establishes the goal for the State to meet 45% of its electricity needs through improved energy efficiency and renewable sources by the year 2015. The offshore wind project is also aligned with Bloomberg's goal to reduce greenhouse gas emissions in New York City 30% by 2030.