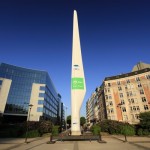 With a 29.5m turbine blade standing tall in the middle of the EU quarter surrounded by information panels all about wind energy, EWEA is certainly focussing attention on the climate, energy and employment benefits of wind energy. But this weekend we'll be at the Fête de l'Environnement in Brussels to spread the positive messages about wind power even further.
The Fête de l'Environnement takes place in Parc du Cinquantenaire on Sunday 6 June, right near the European Commission and European Council buildings in Brussels. Numerous environment organisations will be there, including EWEA, and there'll be street entertainment, organic food stalls, games for adults and children, farm animals and a music concert at the end of the day.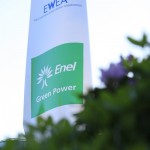 EWEA will be there in the lead up to Global Wind Day on 15 June – a worldwide celebration of wind energy.
For all readers who live in Brussels or nearby, pop by the EWEA stand (number 30) to come and meet us, learn all about how wind energy is already fighting climate change, and pick up your own pinwheel, beach ball, wind energy cap and wooden yoyo. We look forward to seeing you there this Sunday from 11 am!