By guest blogger Sarah Azau, EWEA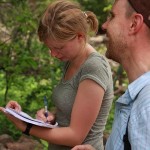 For most Europeans, the renewable energy question revolves around the economic and environmental benefits offered by sources like wind and solar power. But for many poorer citizens of the world, who live miles from an electric grid, renewables can make the difference between being able to light their homes and living in semi-permanent darkness.
One such community can be found in the tiny village of Cuajiniquil, Nicaragua. The village, which can only be reached by foot, is perched on the top of a row of hills, making it a perfect spot for a wind turbine.
EWEA's chosen charity, the Koru Foundation – which works to provide renewable energy to communities in need – certainly thought so. In May 2010, after a year of preparation with a local project partner, it installed a 1kW wind turbine in the village. For the last month, the villagers have had electric lights for the first time ever.
"It has really made a difference to everyone!" enthuses Daily, who lives in the village and, thanks to a Koru-provided training session, is now responsible for the maintenance of the turbine. "Before, we only had kerosene lamps which smoked and made people ill; now, each household has four lightbulbs powered by the turbine".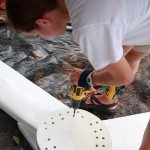 "40% of Nicaraguans have no access to electricity, so projects like this one are essential", explains Neil Jeffery, CEO of the Koru Foundation.
"When it is completed, not only will the villages have light –one even already has a TV! – but the turbine will also power a pump to bring them fresh water from the newly-built well."
In mid-June, I spent three days in Nicaragua visiting Koru's projects and finding out more about their work. A full account of the trip will be published in September's Wind Directions.