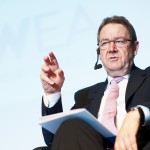 Poul Nyrup Rasmussen, President of the Party of European Socialists (PES) last night called for green bonds to be set up to help kick-start the European economy following its deepest recession since the 1930s. Speaking at a debate on green jobs held in Brussels and organised by the European Wind Energy Association, Rasmussen said that "Europe cannot solve its crisis through austerity plans alone," adding that European institutions must create the right economic environment to boost renewable energy.
The European wind industry has investment needs of around €150bn and green bonds, issued by the European Investment Bank or an independent facility, would help prevent European recovery from losing its momentum and stop countries including China and the US from knocking Europe off its current position as leader in renewable energies, he said.
With its recovery strategies Europe is now "on the wrong track," he said. "We risk sluggish economic growth of around 0.2-0.5%, a dramatic rise in unemployment and a drop in investment incentives for industry," he added.
Christian Kjaer, CEO of EWEA, echoed Rasmussen's call in saying that Europe "messed up" its economic stimulus package. The US, China and South Korea all had better stimulus plans than Europe since they included stronger measures for green growth, he said.
The European economic recovery plan included funds for gas, nuclear and CCS and only small funds for renewables, Maria Da Graça Carvalho, MEP for the European People's Party, lamented. She went on to say that the EIB should be prevented from investing in high carbon projects.
Kjaer threw another element into the debate by suggesting that re-working the way Europe subsidies the energy sector could be a simple aid to recovery during this period of austerity. 80% of European energy subsidies are currently spent on nuclear and fossil fuels, 20% goes to energy efficiency and renewables. "If you want to save a lot of money from your government's budget, remove that 80%. That would also make it cheaper to introduce new technologies," Kjaer said.
Anne Paneels, Senior Advisor for the European Trade Union Conferation, said that another key aspect to growth in green energies is creating more training for technicians and engineers to boost Europe's skill base in the manufacturing sector. Women, in particular, should be encouraged, Da Graça Carvalho added.
The debate rounded off with a call by Rasmussen to make green energy a "people's demand" via NGOs and organisations which could then apply pressure on decision-makers, stimulating the political will needed for change.
Did you attend last night's debate or have a point of view on green jobs and economic recovery? Join the discussion by commenting below.