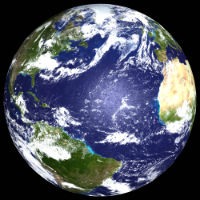 US President Barack Obama was promoting wind power on Earth Day. Saying that Americans have worked hard to clean up the environment in the past 40 years, Obama said there is still much to do.
As a result and calling it a "historic step," he said the Department of the Interior is announcing for the first time the leasing of federal waters to projects such as wind power facilities and other clean technologies that can generate green electricity, especially off the east coast of the US.
"It is estimated that if we fully pursue our potential for wind energy on land and offshore, wind can generate as much as 20% of our electricity by 2030 and create . . . 250,000 jobs in the process, jobs that pay well and provide good benefits," Obama said.
"It's a win-win. It's good for the environment and great for the economy," he said.