Steve Sawyer, Secretary General of the Global Wind Energy Council, yesterday expressed his delight that the wind industry has remained buoyant during the global recession. All the pundits predicted a downturn in the global wind industry, but in 2009 a lot of new capacity was added, he said.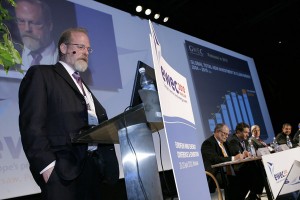 By 2020, up to 12% of electricity could be supplied by wind energy, Sawyer claimed.
Speaking at EWEC 2010  in Warsaw, Sawyer said that the "strong political frameworks" in support of wind energy which are in place in the EU and China would further spur this growth, but he was more tentative about the US and Canada since local politics have dogged progress on renewable energy laws.
Looking to Africa, Sawyer predicted that the biggest demand for wind energy could emerge in South Africa. In the meantime, wind energy projects are being built in Kenya, Ethiopia and Tanzania. Over in Latin America, Sawyer said his bet was on Brazil.
Just like Sawyer's outlook, the mood here at EWEC remains positive with even more people arriving today. Many people have defied the travel disruption and are currently browsing the poster exhibition, milling around the exhibition stands and attending the conference sessions at EWEC.
Talking to some of them, who made it here despite all the odds, reveals an impressive level of determination.
Naoki Hirai and Nakakishi Yuichi from NGK were in London when the volcanic eruption began to send plums of smoke into the skies, and so were able to replace colleagues due to fly into to Warsaw from Japan, making their way across Europe by train.
Their journey was shorter than that of Francisco Gamberte from Ingeteam , however, who drove from Pamplona in Spain, spending 50 hours on the road.